Is your hair dry, damaged and brittle? Just like skin, over time hair can start to lose its health and vibrancy. Hours of sun exposure, multiple chemical treatments and years of product use can take their toll on the life of your hair. L'oreal's Absolut Repair Lipidium line was created to restore the health of your hair by reconstructing strands and creating a protective barrier that locks nutrients in and keeps mechanical and environmental aggressors out.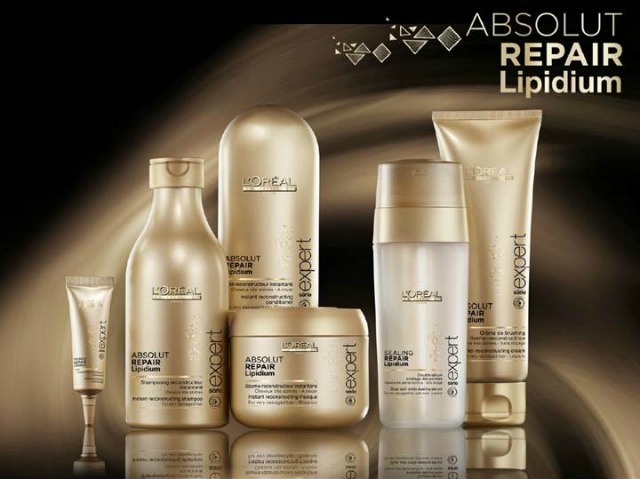 The secret is the Lipidium complex, made up of phyto-keratin, ceramides and lactic acid—ingredients often associated with anti-aging skin care. This unique blend of nutrient-rich components revitalizes hair and leaves locks looking strong, healthy and naturally shiny.
Whether you're a stylist looking to provide your clients with a solution for dry, damaged hair, or you're planning to try the system out on your own as a customer, the Absolut Repair Lipidium treatment is the simple, effective method to quench dry hair and restore it to its natural beauty.
Check out this quick instructional video and follow these 12 steps to complete the L'oreal Absolut Repair Lipidium treatment:
Wash hair thoroughly with Absolut Repair Lipidium Shampoo.
Towel dry hair to remove excess water. Hair should still be wet for the next step.
Apply Absolut Repair Lipidium Primer Repair throughout the hair.
Massage the primer throughout small sections of the hair, focusing especially on the ends and middle sections of hair that are the most damaged.
Blow dry hair until it is about 80% dry.
Run the Loreal Steampod over each section of hair to lock in the nutrient-rich ingredients of the repair product.
Rinse hair thoroughly with water.
Towel dry hair again.
Apply the Absolut Lipidium Masque by massaging the product into hair section-by-section. Allow the masque to set into the hair for about 3-5 minutes.
Rinse hair again.
Apply Absolut Repair Lipidium Sealing Repair Serum throughout hair.
Blow dry hair and style as desired.
Rub a dab of Repair Serum through your hands and massage it through the dried hair for a silky, glossy finish.
Keep your gorgeous hair protected by following up your treatment with regular use of the L'oreal Absolut Repair Lipidium Shampoo and Conditioner. Always protect your tresses from potential heat damage by spritzing it with the Absolut Repair Lipidium Thermo Cream prior to blow drying, straightening or curling it.