There are numerous brands for hair color, but some are provide better color than others, and Godwell Topchic Hair Color is one such brand. Colorists want to provide clients with vibrant and rich colors that are unique and beautiful and Topchic provides intelligent color for unique beauty. Topchic's hair color system is an iconic and truly intelligent color system that will provide such dramatic and brilliant results.
Goldwell Topchic Benefits:
Using Topchic hair color over other brands offers stylists a number of benefits. First, Topichic guarantees intense colors that are full of brilliance in all dimensions so that the client is absolutely elated with the end result. And it provides %100 grey coverage, with improved performance for a complete variety – from cool NA shades to classic N shades and then all the way to intense NN shades and even TriFlective Naturals. All of them are guaranteed by the Dye Penetration and Reflects³ System, so you can use them with the upmost confidence.
They also provide ultimate durability and are the first cool assortment on the professional hair color market from Goldwell, so that they stay cool over time and, this is backed by their innovative CoolProtect Technology. You'll also see that the colors offer excellent evenness for beautiful, even color results from regrowth to ends and is this guaranteed by the Equalizer System 2.0. You'll also get optimum gentleness with 100% performance with absolutely no compromise, which is promised by their patented Coenzyme Technology and creamy-smooth lotion with IntraLipid.
Goldwell Topchic Unique Technology: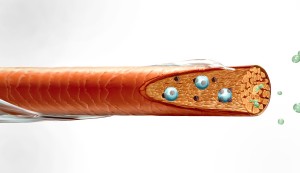 Their hair color is performance proven by more than 60 patents. The Integrated Protect System (IPS)- is their intelligent color system with the latest state-of-the-art formula and was developed by a company with more than 40 years of experience in professional hair color artistry. This system includes Coenzyme Technology that will prevent hair from damage by neutralizing free radicals to provide extraordinary brilliant color tonality, durability and gentleness. The Equalizer System 2.0 combines the patented Equalizer Polymer with cuticle smoothing agents so that it intelligently equalizes structural difference so that you get evenness from roots to tips.
Goldwell Topchic Unique Application:
Topchic isn't just a totally different formula than others, but also uses a unique application. Their Depot can system was first founded in 1978 and 8 out of 10 stylists wouldn't dare change cans since it offers easy handling, precise application and is more economical than other hair colors.
Goldwell Topchic Colors:
The Mix Shades are intensifying and neutralizing mixers so that you can find your perfect shade, while the Naturals offer 100% grey coverage with complete variety. The Blondes are luxurious warm and clear cool blondes and the Browns range from rich and warm to elegant and cool. Finally, the Reds go from vibrant warm reds to cool energy options.
If you want to use quality color that offers rich and satisfying results, then Goldwell Topchic is what you need at your salon.