There's no doubt that all-natural, organic products are gaining popularity these days. From free-range eggs and grass-fed beef to chemical-free house cleaners and soaps, nature is making a comeback. And it's easy to see why. Natural products are healthier and safer, and they are kind to the environment. But what about organic hair care? Do organic hair products really work, and are they really better for you? The answer is an overwhelming yes!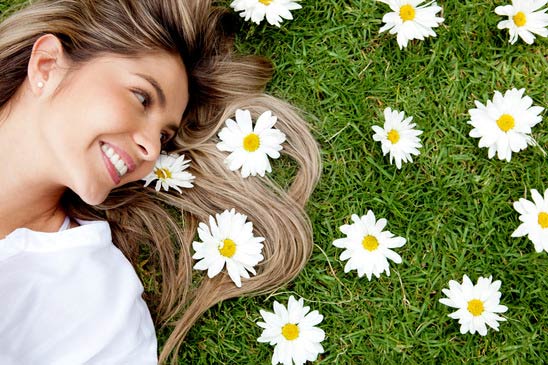 Here are 3 benefits of using organic hair products:
They're better for the environment. Synthetic products can release harsh chemicals into the environment when they go down the drain or are released into the air. Since organic products are made of natural products, they don't have a negative effect on the environment because they are biodegradable.
Organic products are good for your hair. Whereas many products can cause long-term damage to hair because of their harsh chemical content, organic hair products provide your hair and scalp with healthy nutrients. Natural ingredients help keep your hair healthy for the long term, as opposed to just providing the appearance of healthy hair temporarily.
Organic products aren't harmful to your health. It's important to realize that your hair products touch more than just your hair. Shampoo and conditioner end up contacting your skin when they're rinsed off, meaning that any harsh chemicals in those products will also be absorbed by your body. Any products that you spray onto your hair are also likely to make contact with your skin. If you're using products that contain harsh chemicals like alcohols and sulfates, they can cause skin irritation. Even worse, they can cause serious health problems in the long run.
But are organic products really as effective as regular ones? That of course depends on the quality of the product, but there absolutely are high quality organic hair care products available. These products give you all the benefits of ordinary products, but without the harmful effects of synthetic chemicals. Here are some ideas for organic hair care:
For shampoo and conditioner, try Abba Moisture Shampoo and Conditioner. This line uses yucca and geranium extracts along with wild mint to cleanse, hydrate and strengthen hair. Abba's products are vegan and the majority are made without sulfates or synthetic color additives. Their pure, botanical shampoos are so mild that you can also use them as body wash.
For styling gel, check out DermOrganic Firm Hold Styling Gel. This gel offers a strong hold with none of the harsh chemicals typical of styling products. It's vegan, gluten0free, paraben free and contains no artificial preservatives. Made with Moroccan Argan Oil, DermOrganic's styling gel is full of moisturizers, vitamin B5 and natural color protectors. Also try DermOrganic Firm Hold Volume Foam for defining curls or waves and creating all-natural shine.
For repairing damaged hair, try Goldwell Dualsenses Green Pure Repair 60sec Treatment. This treatment helps repair damaged hair and protect against split ends with organic nourishing Shea milk and antioxidant-rich Noni extract. Best of all, this Pure Repair treatment is free from artificial fragrances and dyes, parabens and silicones.
Interested in going green with your hair? Fashion and Beauty Store has a great collection of organic products to choose from. If you have questions about any of our products, feel free to post them in the comments. And remember to follow Fashion & Beauty Store on Facebook and Twitter, and frequently check our website for great new deals on the best products.