Summer is a time of fun and sun, right? Well, yes, but summer is also the time you're your hair can undergo the most damage. UV rays, chlorine and hard water, and sea salt can devastate your hair gradually, leaving you with a frizzled, brittle discolored mess by September. Fortunately, you don't have to let the hottest months of the year get the best of your hair. We have the products that protect and nourish your hair before, during and after your fun in the sun, surf and pool. If you're looking for maximum hair health with minimal hassle, you've come to the right place.
Science To The Rescue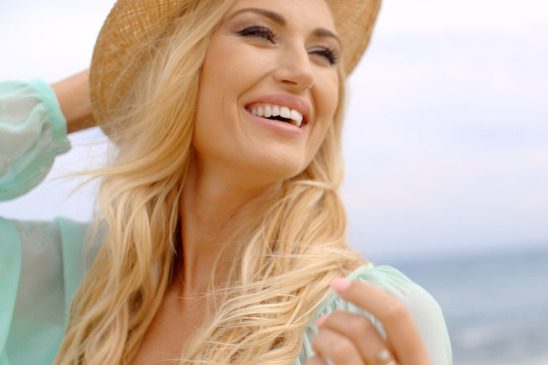 I grew up in the 70s in the hot climate of Southern California, before the danger of the sun's UV rays were fully understood. Mom would pack us kids up in the station wagon and head off to the beach, without even a thought of sun block or UV protection for hair. Thankfully, since that time, scientific knowledge of the skin and hair has multiplied. Nowadays, there are many affordable products available that use cutting-edge ingredients to protect and nourish your body.
Affordable Pre Sun Sprays and Oils
Carry these sprays in your beach bag or purse; when you feel the heat, protect your hair from the sun's punishing rays.
Alterna does a really good job of delivering products that offer value while maintaining an earthy, natural profile. For example: Bamboo Beach Summer Ocean Waves is a texturizing spray you can use to add volume and style to your hair before you head out for an active day. It gives you that "just back from the beach" look while paradoxically protecting color and moisturizing your hair. Also, ironically, it contains sea salt, but in a unique formula called "Maris Sal," that may or may not be from the Dead Sea in Israel. This special ingredient contains minerals that are good for your hair. The Bamboo Beach formula is also free of harsh petrochemicals, sulfates, dyes and the like, utilizing botanicals instead. It comes in a convenient 4 ounce bottle.
Another Alterna product, Bamboo Beach Summer Sunshine Spray, helps you control frizz while adding shine, and includes UV protection. The emphasis is again on botanicals that protect your hair, without the use of petrochemicals and other undesirable ingredients. It's available in an affordable, convenient 4.2 ounce size.
For "on the go" hair protection that adds shine, Lakme Teknia Sun Care Spray comes in a 10.2 ounce bottle. It includes UV protection while moisturizing and protecting color. It's just the right size to carry in your beach bag, for instant protection hours at a time.
After the Party's Over: After-Exposure Repair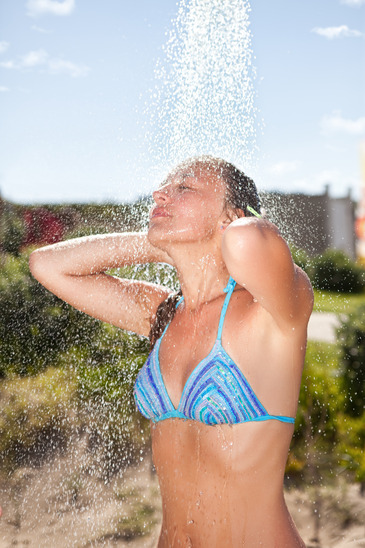 A little bit of after care goes a long way. Nourish your hair and it will thank you by looking great.
Davines delivers exceptional value in hair care while featuring unique botanicals and effective formulas that won't bust the budget. If you're prone to dry hair, or if you spend a lot of time having fun in the sun, Davines SU Sun Protective Moisturizing Oil is loaded with loads of natural oils and UV shields that won't let the sun get the best of your hair and skin. Featured in this exceptional product is Moroccan, Argan Oil and Jojoba Oil, along with antioxidants that moisturize and protect all day long. It's in a 4.2 ounce bottle.
Another choice for after-sun exposure is Lakme's Teknia Sun Care Treatment, featuring wheat amino acids that penetrate to the cuticle to nourish, restore and moisturize your sun damaged hair. This formula is ideal for use after a long day swimming, or laying on the beach or poolside. It features the Ceramide Rebuild System that nourishes keratin fibers, along with UV protection to prepare your hair. It comes in an 8.5 ounce bottle. Both Lakme products are Paraben and PEG free.
Cleansing For Sun Worshipers and Swimmers
These "healthy for your hair" shampoos protect, nourish, and smell terrific!
Follow up your activities with a soothing replenishing shampoo and body wash like Davines SU After Sun Hair and Body Wash. This outstanding product adds moisture while gently cleansing away chlorine and sea salt, using yummy smelling Apricot Oil, Rice Proteins and other ingredients. It's available in an 8.5 ounce bottle.
Another choice for after sun hair care: L'oreal Serie Expert Solar Sublime After-Sun Shampoo. This is an affordable choice if you're looking to cleanse your hair after long hours in the sun, or swimming in the ocean or a chlorine-filled pool. While it doesn't include the body wash feature of the Davine's product, this is an after sun shampoo designed to maintain radiance and softness because it's loaded with ingredients that repair your hair. This L'oreal product also includes UV protection, a nice feature for those heading back into the sun after treatment. It comes in an 8.4 ounce bottle.
A third choice for post-sun cleansing is Lakme Teknia Sun Care Shampoo, which features many of the hair repairing ingredients of Lakme Teknia Sun Care Treatment, including wheat amino acids that penetrate the cuticle to nourish, protect and lock in color. It includes UV protection, is for all types of hair, is paraben and PEG free, and comes in a 10.2 ounce bottle.
The Web's Best Selection of Hair and Skin Care
With exceptional hair care values like these, there's no excuse for heading out for summer unprotected and unprepared. Check out our wide selection of fashion and beauty products and convenient, fast shipping and give your hair and skin the protection that will keep you looking terrific year round.