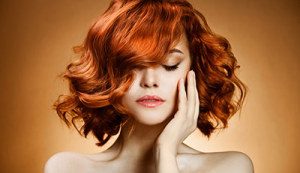 If you color your hair, you know how important it is to maintain your color as long as possible. Coloring your hair is expensive and time-consuming, and you don't want to have to re-treat it more often than necessary. So how do you keep your colored hair looking vibrant and beautiful as long as possible? Here are 7 easy tips for maintaining color longer:
Only use professional salon quality color that conditions hair. If you go to the salon for your color treatments, ensure your stylist is using quality hair color that will condition your hair. If you do your own coloring, don't buy cheap hair dyes off the drug store shelf. These treatments might be inexpensive, but they also have the potential to strip your hair of vital nutrients and are not likely to provide long-lasting color. Some quality brands to try are Goldwell Nectaya Ammonia-Free Hair Color and Redken Color Fusion.
Wait several days after coloring before you wash your hair. Holding off on washing your hair will give your color a chance to set and helps extend its life.
Don't wash your hair too often. Color-treated hair shouldn't be washed more than every other day in order to maintain the color. If you normally wash your hair daily, start progressively cutting days out. Although your hair might be oily the first few days, it will adjust to the new schedule.
Use a color-protecting shampoo and conditioner. Always use high-quality products that help protect your hair's color and boost your hair's health with nutrients. Try Goldwell Dualsenses Color Extra Rich Fade Stop Shampoo and Conditioner.
Use a color-protecting dry shampoo between washes. If your hair is looking oily between washes, try a dry shampoo like It's a 10 Miracle Dry Shampoo & Conditioner, which will help remove excess oils and preserve your style longer.
Condition more frequently than you shampoo. Conditioners are less likely to strip hair of color, but they still help provide your hair with the nutrients to make your hair shiny and smooth.
Protect your colored locks from UV rays. You already know the sun's rays can be damaging to your hair, but colored hair is even more at-risk because UV rays can fade your color. Use a color-protecting, UV-blocking treatment like Alterna Bamboo UV+ Color Protection Rehab Deep Hydration Masque to lock in color and block out harmful sun damage.
Love learning new beauty tricks? Visit the blog each week for new posts! Follow us on Facebook and Twitter to be the first to hear about our new products and latest deals.